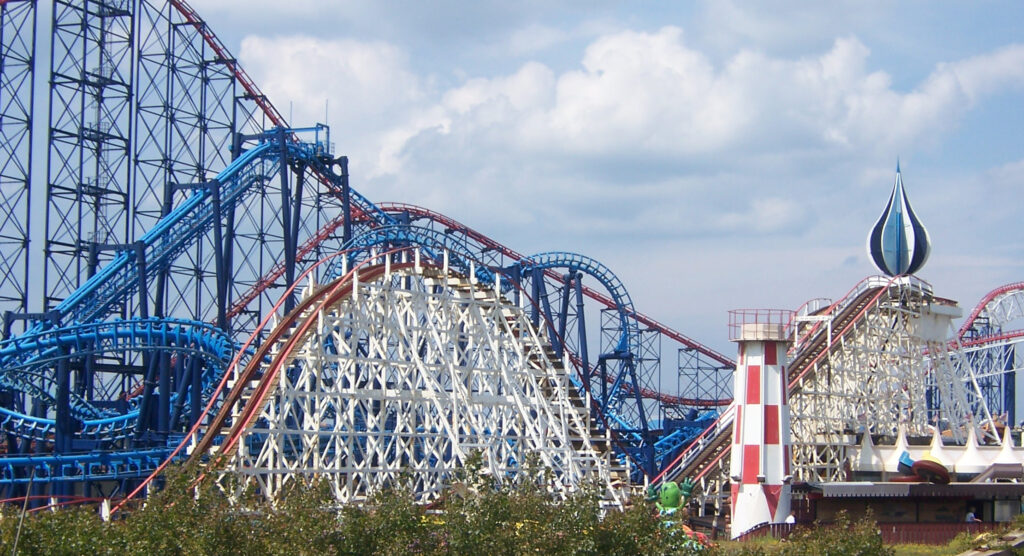 The Big Dipper
The Big Dipper is without a doubt one of the iconic and most famous rides at Blackpool Pleasure Beach. Indeed this is one of the oldest and most highly-regarded attractions in the park and while it may seem tame compared to some of the newer rides, there can be little doubt that it holds a special place in the hearts of those who regularly visit the venue.
This wooden roller-coaster will be celebrating its centenary anniversary in 2023, having been constructed in 1923 and extended in 1936. It was given a Grade II listing in 2017 and as such it's future is secured for many more generations of thrill-seekers. The Big Dipper is the second-oldest rollercoaster in the UK, after Scenic Railway at Margate.
The ride itself consists of two trains and each of these contains three four-bench cars with two people on each bench. The maximum height of the ride is 65 feet and it is 3,300 ft in length, a single cycle taking around 2 minutes 30 seconds.
The ride was completely refurbished in February 2010 with the 1935 station receiving an upgrade in a sympathetic manner. The whole track was completely refurbished and the trains themselves were repaired where necessary and given a new dark blue paint job. In 2014 all of the grab rails were replaced.
Our Thrill Verdict
The Big Dipper remains a big favourite at Blackpool Pleasure Beach despite being nearly 100 years old and while it may not be quite as scary as the bigger and more modern rides, it is very much a thrilling experience. The rattles and creaks of the trains over the wooden structure make this an experience never to forget and the length of the ride makes it very worthwhile. No trip to Blackpool Pleasure Beach should be undertaken without having a ride on The Big Dipper and while there are more exciting rides here, we cannot bring ourselves to award it any less than 4.5 on our Thrill Rating.
Blackpool Pleasure Beach Rides