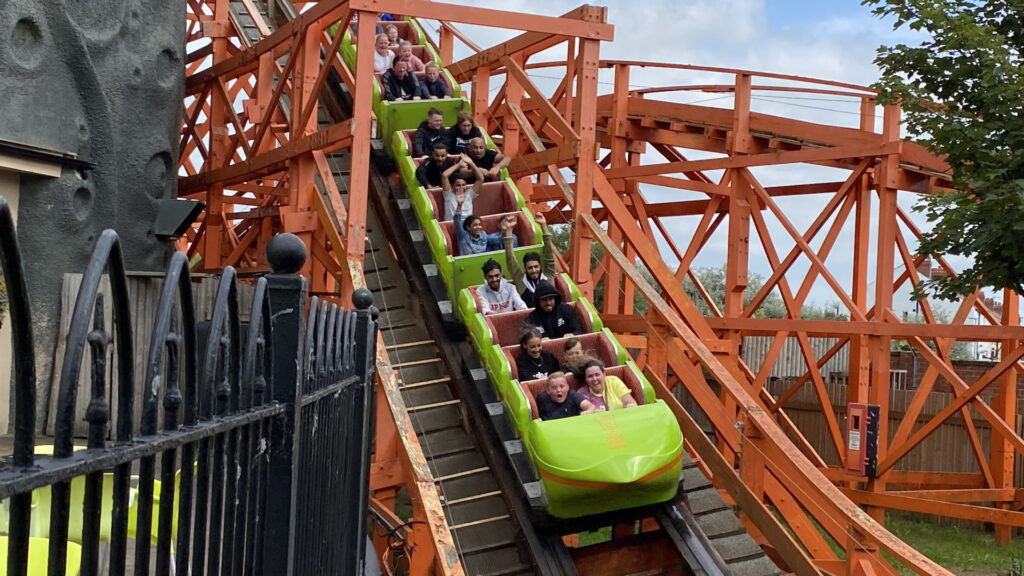 Nickelodeon Streak
Nickelodeon Streak is the third of Blackpool's four old wooden rollercoasters and it is one of the most famous. Opened in 1933 and named simply the 'Roller Coaster' until  2010 when it was named Nickelodeon Streak, this excellent ride is the second tallest wooden rollercoaster at Blackpool Pleasure Beach and it has been the subject of several restorations and refurbishments over the years.
This ride is fast approaching its centenary but it is still as popular as ever. The ride itself consists of just a single train with three separate cars, each of these cars containing eight passengers to make a total of 24 riders. Initially there were no restraints on this attraction but the newer trains have lap bars for added safety. This doesn't detract from the enjoyment of this ride.
The total length of this rollercoaster is 2,293ft while the maximum height attained is 61ft. The train travels at up to 35 mph and passengers experience a force of up to 3G along the way.
The Velvet Coaster was the forerunner of this ride and parts of that ride were re-used in the current rollercoaster. Indeed one of the original trains from the Velvet Coaster is preserved and on display in the station.
This is one of the four classic wooden rollercoasters at Blackpool Pleasure Beach and as such it has a special place in the hearts of regular visitors and locals alike. Nickelodeon Streak will celebrate its centenary in a few years and while it hasn't yet been listed, unlike many of its contemporaries at the Pleasure Beach, its future nevertheless remains assured given its continued popularity.
Our Thrill Review
While this ride may well be almost 100 years old, there can be no denying that it is one of the standout attractions here and the huge numbers of visitors waiting patiently for a ride on Nickelodeon Streak each day is testament to its popularity.
This certainly isn't the fastest, longest or highest rollercoaster at Blackpool but what it lacks in real thrills, it makes up for in character. You really cannot beat a ride on a wooden rollercoaster and this one is a real classic. There are no frills here, just a good old-fashioned ride offering some great fun. We give this one a Thrill Rating of 3.9
Blackpool Pleasure Beach Rides