Line-up for 2022 Blackpool Air Show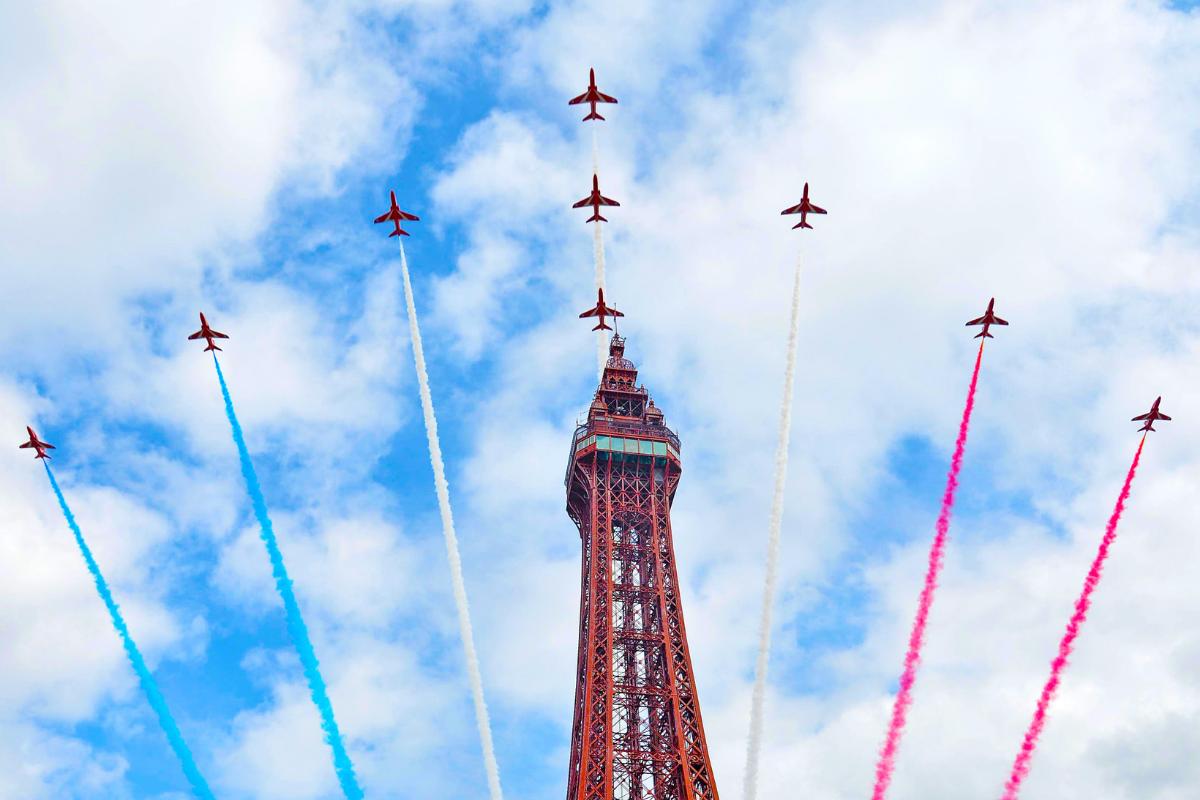 Blackpool Air Show 2022
The free two-day Blackpool Air Show will once again feature some thrilling aerial manoeuvres from a wide variety of both civil and military aircraft such as the Red Arrows, RAF Typhoon, Wingwalkers and Battle of Britain memorial Flight.
The 2022 Blackpool Air Show will take place on Saturday 13th August and Sunday 14th August, the aerial spectacular set to wow crowds with a wide range and variety of military and civil aircraft including the world-famous Red Arrows, AeroSuperBatics Wing Walkers, Strikemaster, Pitts Stunt Plane, Chinook, Typhoon and Battle of Britain Memorial Flight.
There will also be numerous attractions on the ground with stalls galore, food concessions and other entertainment
Red Arrows
In the Red Arrows, the UK has one of the world's foremost aerobatic teams and we will see them perform on each day of the Blackpool Air Show. The Red Arrows have been wowing the crowds since 1965 and 2022 will be their 58th season. Enjoy!
Battle of Britain Memorial Flight
Consisting of a Lancaster, six Spitfires, a C47 Dakota and two Hurricanes as well as two Chipmunks for training, the BoBMF's mission is to maintain these priceless aircraft for future generations to enjoy and the Blackpool crowd will enjoy a display by the Lancaster, spitfire and hurricane.
RAF Typhoon
The RAF's Typhoon fighter aircraft have a top speed of over 1400mph with 40,000lbs of thrust from 2 Rolls Royce engines. Flown by Flight Lieutenant Adam O'Hare, this will be a favourite with the crowds. Bring on the noise !!!
RAF Chinook
A huge and extremely capable support helicopter, the Chinook is a very versatile performer in all theatres and has formed the backbone of the RAF's activities for many years. Readily identifiable due to the distinctive sound of its rotors, this helicopter will be flown by crews who are all part of a fully operational squadron.
AeroSuperBatics Wingwalkers
The only professional formation wingwalking team in the world, AeroSuperBatics will see Emma Broadbent and Kirsten Pobjoy perform on the wings of Boeing Stearman biplanes while the aircraft fly a choreographed routine of thrilling aerobatics at speeds of up to 150mph.
Strikemaster
Once a familiar sight in UK skies and more commonly known as the Jet Provost, the Strikemaster was built by BAC (now Bae) along the coast at Warton. The Strikemaster was a ground attack version of the Jet Provost and while never operated by the RAF, they were exported to New Zealand, Oman and Ecuador.